Purpose:
The purpose of the Guys' Club to enjoy the spoils…. without the labors.  Guys' Club members celebrate non-events with follow-up press releases, certificates, mementos, and the like.
In keeping with the purpose, the Guys' Club motto was established: "We're workin' on it."  The motto serves as the universal response to all questions related to the Guys' Club.
Inspiration and direction for the Guys' Club purpose came from close observation of Lakeside Women's Club time-consuming committees and events. All require a great deal of work with the potential of ruining perfectly good summer days that could be spent in the shop, the golf course, or on the boat.
History… the Early Years:
The Guys' Club was founded in 2001 by nine charter members to assure the recognition of the male presence in Lakeside.  Charter members included:
                        Bill Albert                        Tony Apostos                        Glen Becker
Mark Carle                        Bill Maenner                        Ron Jacobs
                        Tom Salamone            Dick Swanson                        Jim Wagnitz
The 1948 Ford truck — usually parked at 315 Sycamore Avenue, Lakeside, Ohio, 43440 — served as official World Headquarters of the Guys' Club from 2001-2012.  Most club transactions took place through glove compartment communication. Today the 1933 Ford serves as the Mobile HQ and the garage door mailbox at 315 Sycamore handles non-email transactions.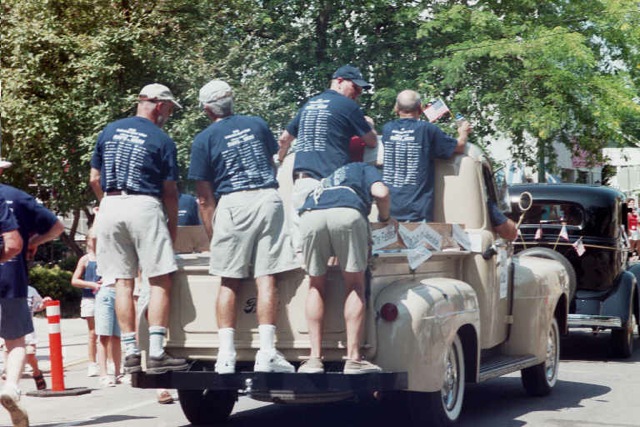 In 2001, the Guys' Club began the hugely popular "Annual Tour of Shops and Sheds" and issued collector t-shirts.  2001 also saw the beginning of the unplanned appearance of the Guys in the July 4th parade with features such as safety seating for parade viewers (duct taping viewers to their chairs).
In 2002, the Guys' Club began the awarding of certificates of completion for non-courses. The first was for "Wait-Resistance Training' (Our Time is Valuable).  Annual course completion certificates can be downloaded from this website (usually).
In 2003, the Guys' Club instituted monthly 8:00 am breakfast gatherings on the 15th of June, July, and August.  The 15th was selected in recognition of all the taxes the guys have paid over the years. The newly formed Guys' Club Cordless Drill Team was the hit of the July 4th parade.
In 2004, the Guys' Club's unrehearsed guest appearance with the Lakeside Chautauqua Chorale in Hoover Auditorium brought down the house.  Guys' Club shirts for 2005 went from t-shirts to polo shirts (formal wear for church, weddings, graduations and dinner dances).
The Guys' Club history continues to be written! The Lakeside Heritage Hall contains a permanent collection of Guys' Club zaniness.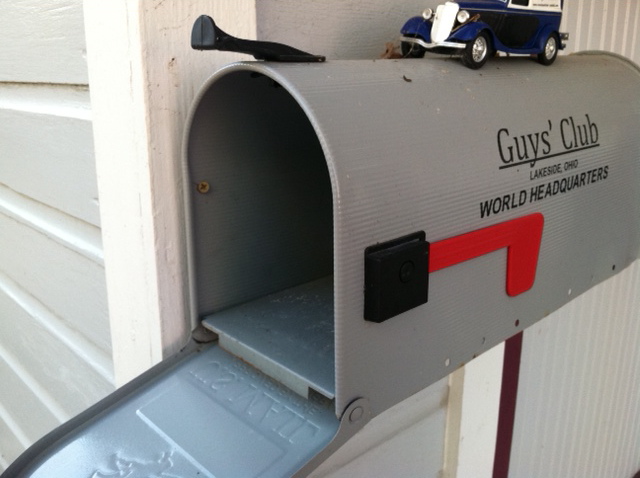 Guys' Club Collector Shirts